How do I login to my cPanel (control panel)?
Posted by Innerplanet Sales on 08 January 2006 06:03 PM
There are several ways to access your cPanel, however we suggest one of the two ways below.
We now provide a handy login form at https://innerplanet.com/login.php. We suggest using this form, as it is the easiest way to login.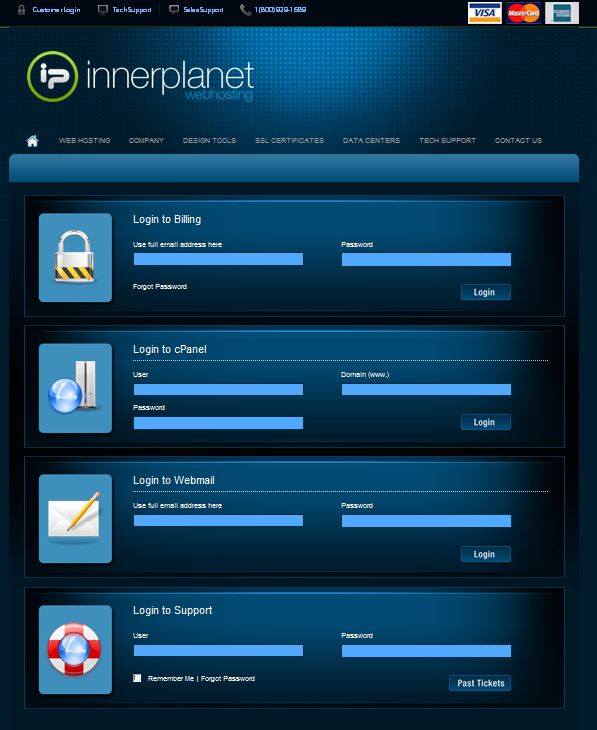 Here are some other easy ways you can access your cPanel. We have installed SSL certificates on our servers.
This will prevent you from seeing the SSL warning error that you may see with other hosts.
https://yourservername.innerplanet.com:2083
For example, if your account is on our Venus server you may access your cPanel like this:
https://venus.innerplanet.com:2083
If your account is on the Mars server, you may access your cPanel like this:
https://mars.innerplanet.com:2083
And so on......
Some people prefer to login another way to cPanel, using their domain name like this:
https://yourdomain.com:2083 or https://yourdomain.com/cpanel
However you will see a warning error that will say something like "There is a problem with this website's security certificate".
Basically, what is happening here is the SSL certificate (for https access) was issued to the servername.innerplanet.com:2083 and the domain actually being accessed is yourdomain.com:2083. So, the browser gets concerned and will show the error. Nothing to be alarmed about; perfectly routine and normal operation. Even though you see the error, logging in this way is totally secure.
Important- How to login to cPanel before your domain name is pointing (propagated) to our servers:
If your domain name has not propagated to our servers yet you can still login to cPanel with the server IP address or server name. Here is an example:
If your account is setup on the Venus server and your domain name is not pointing to our server yet you may access your cPanel like this: https://venus.innerplanet.com:2083 or https://204.93.198.18:2083
Note:, If you have trouble logging into your cPanel, here are some things to try before contacting support.
1. ) If you receive a "Page not found" error or something similar when trying to login to your cPanel from the new login page please type your domain name in the login box without the www. Example-> innerplanet.com instead of www.innerplanet.com. Of course, use your domain name instead of innerplanet.com.

2. )Your network could be blocking these ports. You can verify this by attempting to logon to your cPanel from another computer outside of your network.
For example, if you receive this error from work, try it on your home computer. If you have success, then it's most likely the cPanel port(s) are being blocked. If this is the case, you will need to contact your local network/IT administrator and ask them to unblock ports :2083 and 2083.
3.) Temporarily disable any firewall/virus software that you may have on your computer (Warning, this may leave your computer vulnerable to any outside attacks, only disable it long enough to troubleshoot this issue).

4.) If you copy and paste your username and password, make sure there are no blank spaces at the beginning or the end of your login. You can always try hand typing the login to see if that helps.
5.) Please remember that your login is cAsE sensitive and check to see if you have your Caps lock on.
---
---