How do I update my credit card info?
Posted by Innerplanet Sales on 25 September 2008 06:14 PM
Please login to the client billing at: https://innerplanet.com/whmcs/clientarea.php or our secure login page located at https://innerplanet.com/login.php

You will need your client billing login details. This differs from your control panel (cPanel) login and may be found in your welcome email.
The account email is the email you signed up with.
If you have forgotten or lost your client billing login password, you may have it emailed to you automatically, click the "Request a Password Reset" link below the billing login form.


Once logged in, click on "Update Your Details" at the top. Then click on "Credit Card Details"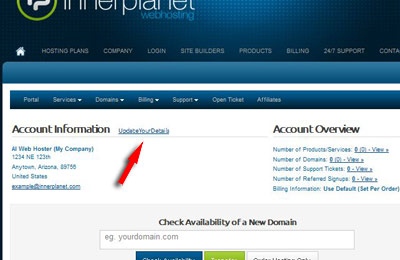 If you need help with any of this please contact our billing department at www.innerplanet.com/billinghelp We will be more than happy to assist you.

---