All Innerplanet plans come with fully managed 24/7 US-Based support, CPanel, free web builders, nightly backups, rocket fast SSD Drives and much, much, more!
Preinstalled scripts included with our shared hosting make life much easier by allowing you to install any popular application/software without any web hosting knowledge. Whether you want to start a website, blog, forum or online store our 1 click, script installer has the right software for your needs. From Wordpress to Zen Cart, we have it all!
Select your perfect shared hosting plan
Mercury Plan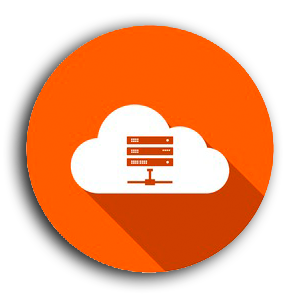 Starter cPanel based web hosting
2GB Disk Space
5GB Bandwidth
5 Addon Domains
Auto-Install Wordpress and over 270 others!
Fast SSD Drives
Earth Plan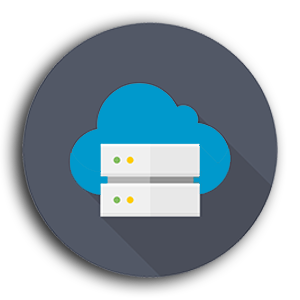 Our most popular plan loaded with great features
10GB Disk Space
10GB Bandwidth
10 Addon Domains
Free Web Builders
Fast SSD Drives
Neptune Pro Plan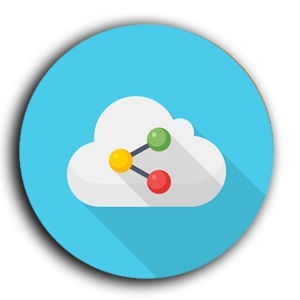 Pro Plan For Business
15GB Disk Space
50GB Bandwidth
15 Addon Domains
FAST 24/7 US Support
Fast SSD Drives
Our hosting features
Control panel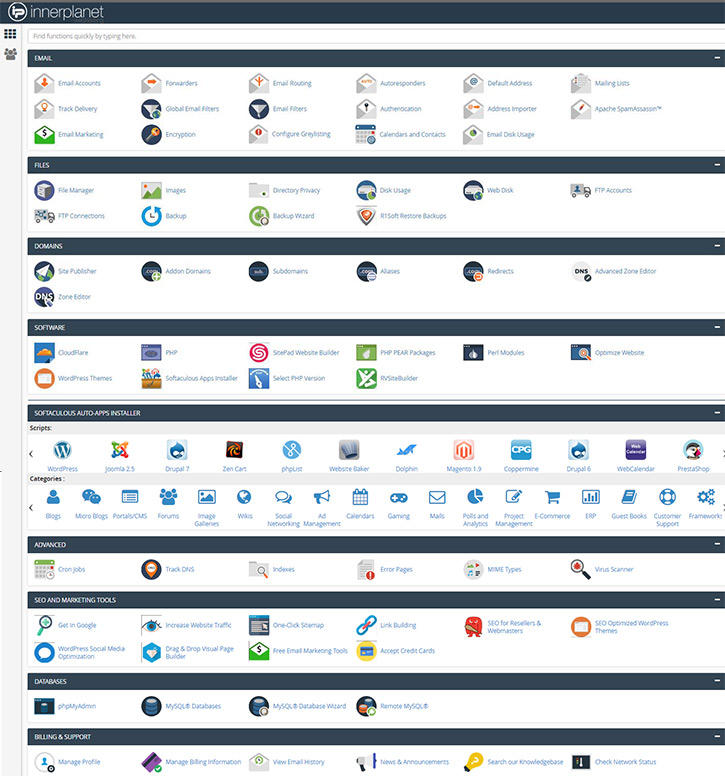 All of our web hosting plans come with cPanel.
All about cPanel
With cPanel you can easily manage every aspect of your web hosting account. From creating custom email addresses all the way to editing your website files. The best thing about cPanel is that it can be accessed easily from any computer with an Internet connection.
cPanel features
cPanel allows you to easily:
Manage your website files with its browser based file manager (e.g upload, delete, edit files)
Create/delete email accounts of your choice (@yourdomain.com) and access webmail via your browser
Install/remove software on your account with the help of Softaculous (Wordpress, Joomla etc)
Create/manage/delete databases and privileges
Manage account backups
View your account statistics (visitors to your website, their country/computer specs etc)
Script installer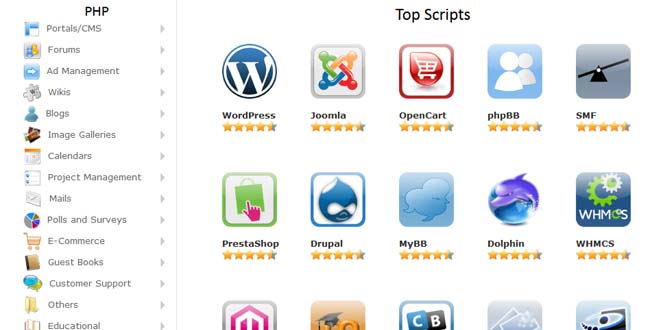 All of our web hosting plans come with Softaculous script installer.
All about Softaculous
Softaculous is a application built into cPanel that allows you to easily install from over 150 free scripts/software. Software includes Wordpress, Joomla, phpBB, Magento, Prestashop and many more. No matter which type of website you're looking to build we provide access to software that'll make it easier to create and manage your website/blog/forum/online store!
Popular Softaculous scripts
eCommerce - Magento, Presta Shop, WHMCS
CMS - Wordpress, Joomla, Drupal
Forum - MyBB, phpBB
CloudLinux
All of our web hosting packages come with CloudLinux. CloudLinux OS is the leading platform for multitenancy. It improves server stability, density, and security by isolating each tenant and giving them allocated server resources. This creates an environment that feels more like a virtual server than a shared hosting account.
CloudLinux
Great Server Stability and Security
Hardened PHP and Multiple PHP Version Selector
Why choose Innerplanet Web Hosting?
High-Speed Experienced Support
At Innerplanet, there will always be a real person to talk to 24 hours a day, seven days a week. Our friendly support teams will always be there to help you through any issue large or small. From our Level 1 technicians to our system administrators, our teams all speak English as their first language. We offer a state of the art customized ticket/help desk to help with you with any issues or questions that may come up. Live Chat is here to answer quick questions and a toll free phone support line, all 24 hours a day.
Proven track record
We have been providing web services to satisfied customers for over 15 years! Innerplanet's number one referral source? It's our existing clients! Many of Innerplanet's clients are still with us from our first year in business! This says something about how our client's view us.
Try us Risk Free
We stand behind our products and services that we offer 100%. However, in the unlikely event you want to cancel in the first 60 days after signup, all Innerplanet plans carry a full money back guarantee..
Response Times
Our response times are second to none. Not convinced? Contact us and see how fast we respond! You can count on us being here when you need us the most. When clients need help or an answer to a question, they need and expect it now, not tomorrow. Innerplanet takes pride in making sure all issues are dealt with in record time. How do we do it? Simple; we actually have "teams" of support people on hand ranging from level one through level three. Not just one person claiming to be all three support departments at one time.
Powered by WHMCompleteSolution